Pacific Quest Home Inspection Services
Pacific Quest Home Inspection is here to serve homebuyers, sellers, and Realtors in Los Angeles County, including Santa Clarita, Antelope Valley and Bakersfield. We'll schedule your appointment when it's most convenient for you, even on a weekend or in the evening (until sunset).
Jesus Acosta encourages you to attend inspections to ask questions. The real value of home inspection services, though, comes when Jesus finds unseen or overlooked problems. You'll receive a comprehensive report of his findings.
Inspections from the Top Down
At Pacific Quest, we offer complete home inspection services, examining the house as if it were our own. We specialize in general home inspections, and Jesus gets up on the roof for every inspection if it is safe to do so. Weather permitting, he even uses a drone to capture aerial photographs. Additional home inspection services include:

Pre-listing inspections for home sellers
This service includes a general inspection to uncover any major problems with your home, which you can then have addressed. Your sale will be stronger when you know all your home's issues have been resolved.

New construction phase inspections for buyers
Not all new homes are perfect; this inspection ensures that everything has been built without detectable errors. Pacific Quest performs this inspection before your final walk-through with your builder.

Multi-family home inspections
Before buying an investment property, have it inspected. You may know the obvious things you'll have to fix; before you buy, make sure you're not missing anything.

Solar panel inspection, if applicable
If the property has solar panels, rely on Jesus and his solar experience to ensure they're in working order.

Rental inspections
Before you move in, have your place inspected, which documents the state of the house before you set foot inside. This inspection protects you against aggressive landlords who want to keep your security deposit.

Pool and spa inspections
For an additional fee, have the pool or spa on the property inspected. Whenever there's water, there's the possibility of leaks and cracks. Don't be surprised later on.

Thermal imaging inspection
This type of inspection, included FREE with your general inspection, allows the inspector to look at the wavelengths coming from the walls, ceilings, the floors and more for problems like moisture intrusion that cannot be seen with the naked eye.
Complete Home Inspection Services
Home inspectors typically check more than 150 items, often employing tools like an Infrared Thermographic camera to view details that can't be seen with the naked eye. The attention to detail and the quality of Pacific Quest Home Inspection services are unmatched in Los Angeles County. We inspect your property thoroughly, inside and out, including the following: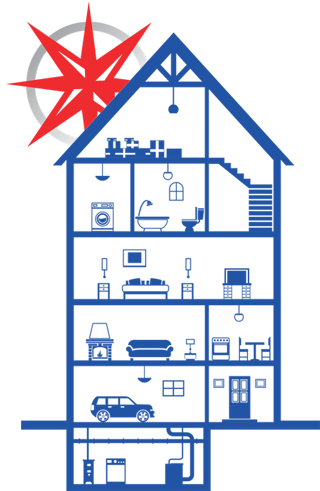 Roof and chimney integrity
Foundation strength
Plumbing, such as bathrooms and water heaters
Electrical systems and wiring
Built-in appliances
Air conditioning and heating units
Crawl spaces and attics
Ventilation
Fireplaces
Stairs and railings
Insulation
Decks, porches and balconies
Interior surfaces, such as doors, floors, ceilings and walls
Exterior windows
Drainage systems
Property grading
Added Protection, Added Convenience
We use Infrared Thermography, a thermal imaging technology that can help locate hard-to-find problematic areas by detecting heat signatures. Thermal inspections can detect electrical wiring issues and water damage, as well as termite, insect and rodent infestations. We offer this service at no cost when conducting your home inspection.
Pacific Quest Home Inspection also includes, at no cost to you, the patent-pending Create Request List™ (CRL™), which helps you create a custom list of repairs that need to be completed before you finalize the deal on your new home. Check out this interactive demo, to experience how simple it is. A CRL™ gives you the power to:
Prepare a list of repairs
Edit your list with ease
Add new repair requests
Collaborate with your Realtor and seller/buyer
Email your report to relevant parties
Schedule Your Home Inspection with Pacific Quest Today!